This was my first prime rib, and I have to say it came out pretty good. When I got the prime rib home from the store I realized how big it was, and I got a little scared. Worried that I would over cook it, under cook it. In the end I put my faith into my probe thermometer, and like always it delivered. The flavor of the meat with horseradish was just mouth watering. It was a special treat to prepare this fine piece of meat for my family.
10-12 lb prime rib bone attached roast
olive oil
kosher salt
freshly grated black pepper
granulated garlic
4 cloves of garlic, slivered
2 sprigs of fresh rosemary
Method:
Ask your butcher to cut bones away from roast and to tie them back onto the roast with butchers twine. Remove your roast from refrigerator 2 hours before cooking, it must come to room temperature before you place it in the oven.
Preheat oven to 450 degrees.
Place prime rib in a roasting pan with 3 inch high sides. The roast should be placed bone side down. Pat the roast dry and liberally coat the roast with salt, pepper, and granulated garlic. Rub olive oil the the two sides of exposed meat, not on the fat portion on the top of roast. Cut small holes all over the top of the roast with a paring knife; insert pieces of the slivered garlic and rosemary.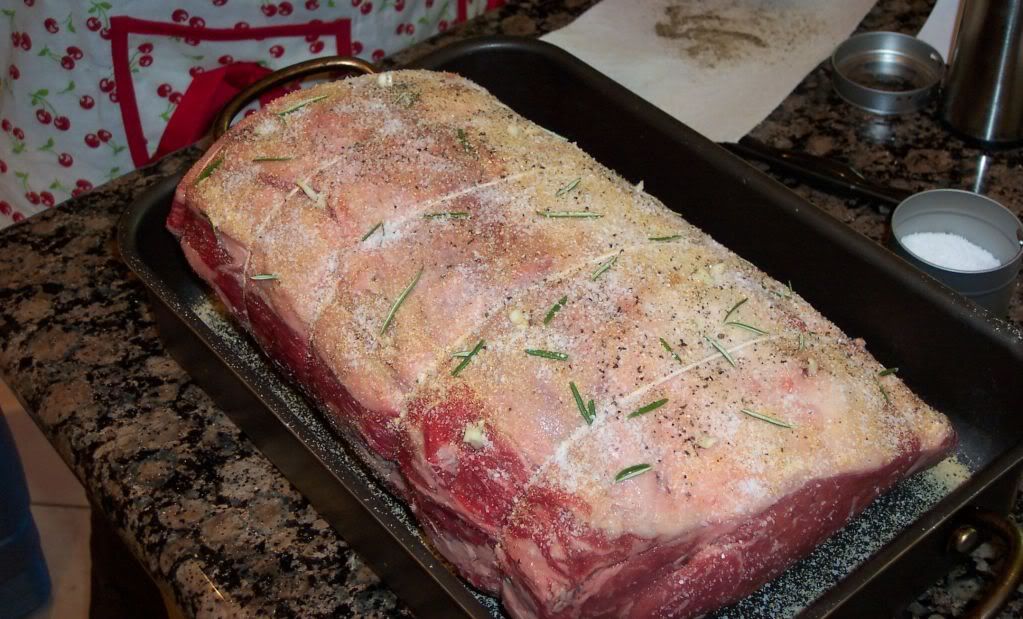 Insert probe thermometer. Seer prime rib for 15 minutes at 450 degrees; then turn oven down to 350 degrees.
Your prime rib will be done when your meat thermometer tells you, it takes about 20 minutes per pound. 125-130 degrees for a medium rare roast. Once your roast reaches 125 pull it out of the oven and cover it with foil. Let it sit for a good 30 minutes before carving.