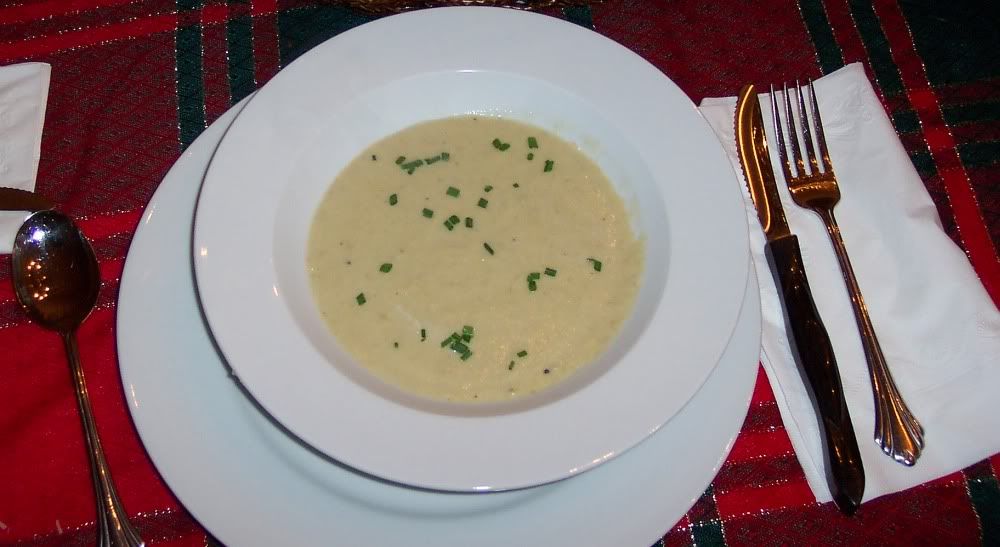 This soup is just delicious, I made it as the starter to my fabulous Christmas dinner feast. You could easily freeze left overs of this soup for easy lunches.
Ingredients
4 Tbsp olive oil
4 leeks, white part only, washed well and chopped
2 clove garlic, minced
2 small potato, peeled and cubed
2 (8-ounce) package frozen artichoke hearts, thawed and chopped
4 cups chicken stock
8 ounces cream cheese
1 tsp kosher salt
1/2 tsp freshly ground black pepper
1 Tbsp fresh lemon juice
2 Tbsp chopped chives, for garnish
Heat oil over medium heat in a large stock pot. Add Leeks, garlic saute for two minutes. Add the potatoes and saute for 7 minutes. Add the artichokes, chicken stock, cream cheese, salt, and pepper; cook over medium low heat for about 40 minutes till every thing is nice and tender.
Blend soup using a hand held immersion blender, or work in small batches in a blender. Taste and season soup and add salt and pepper to taste. Add lemon juice to the soup right before server, garnish bowls of soup with freshly chopped chives. Enjoy
Serves 8