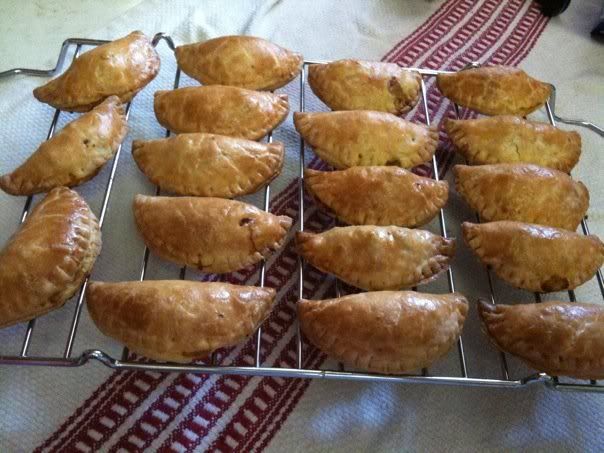 Pastry Ingredients
16 ounces cream cheese, room temperature
2 sticks unsalted butter, room temperature
½ tsp kosher salt
3 cups white flour
1 beaten egg for pastry egg wash
Filling
2 Tbsp olive oil
1 white onion, minced
1 green bell pepper, finely chopped
1 red bell pepper, finely chopped
4 garlic cloves minced
¼ pork chorizo sausage
½ pound ground pork
½ pound ground beef
1 cup peeled, seeded and chopped tomatoes, I used fresh
¼ cup Spanish brine-cured green olives, pitted and chopped
1 tsp ground cumin
2 hard boiled eggs, peeled and finely chopped
Method
Pastry
Beat cream cheese, butter, and ½ tsp salt until well blended. Slowly add in the flour. Mix till incorporated and form dough into two balls. Place balls in plastic wrap and put in the refrigerator.
Filling
Warm olive oil in a large fry pan over medium heat. Add onions, bell peppers and garlic, cook till tender about 10 minutes. Add the chorizo, pork, and beef and cook till no longer pink, about 5-7 minutes. Add the tomatoes, olives and cumin. Cover and simmer until heated through, about 10 minutes. Uncover and cook till all moisture is gone, about 5 minutes. Taste and season with salt and pepper. Put aside to cool.
Assemble
Heat oven to 375. On a floured work area roll one dough disk out to 1/8th thickness. Use a cup or a jar with a 3 inch diameter to cut pastry disks. Fill each disk with a nice teaspoon size ball of filling, top with a few pieces of hard boil egg. Roll dough over and crimp edges with fork to seal. Rinse and repeat till your cooking sheet is packed, brush with egg was and bake for about 15 minutes.