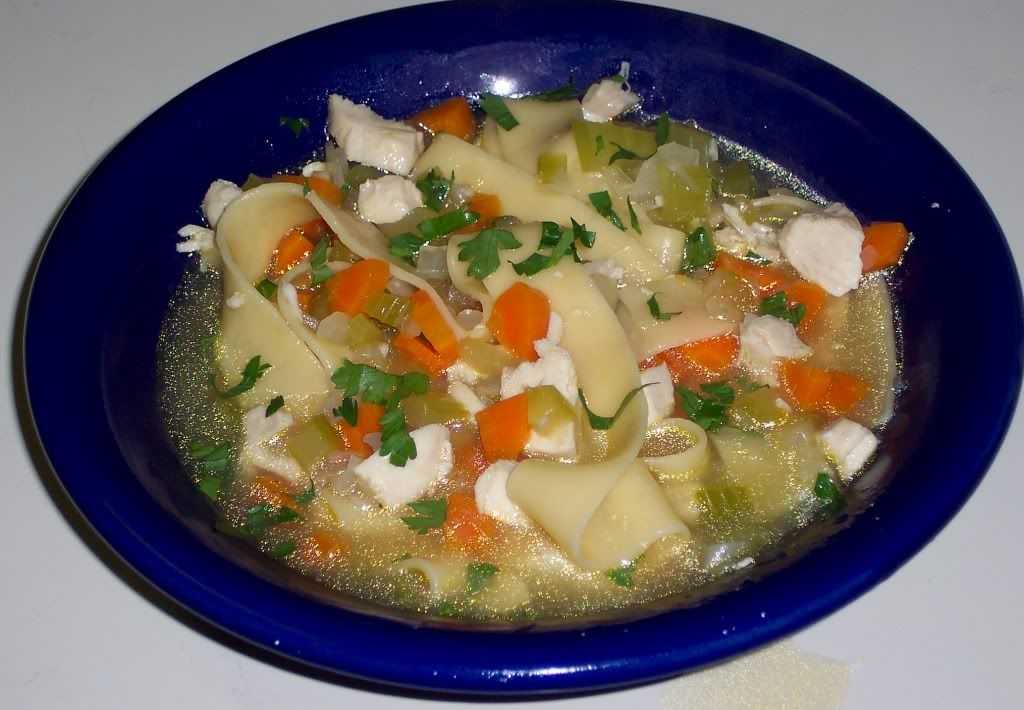 The past few days have been so cold in the Bay Area. Time for some more soup! This recipe is pretty simple, and you can you chicken legs or thighs if you prefer them over breasts. I used breasts cause they are a staple item in my freezer. Enjoy!


3 boneless skinless cooked chicken breast, cubed
1 yellow onion, finely chopped
4 celery stalks, finely chopped
3 carrots, finely chopped
2 garlic cloves, minced
1 Tbsp olive oil
5 cups chicken stock
1 bay leaf
4 oz egg noodles
1 Tbsp fresh lemon juice
salt and fresh grated pepper to taste
2 Tbsp chopped flat leaf parsley
Method
Heat olive oil in a stock pot over medium heat, add onion, celery, carrots, and garlic. Saute till tender about 7 minutes.
Add stock and bay leaf to pot and bring to a small boil. Add egg noodles and cook for about 8 minutes. Fold in chicken, remove bay leaf, add lemon juice and salt and pepper to taste. Serve each bowl with fresh chopped parsley.
Serves 5