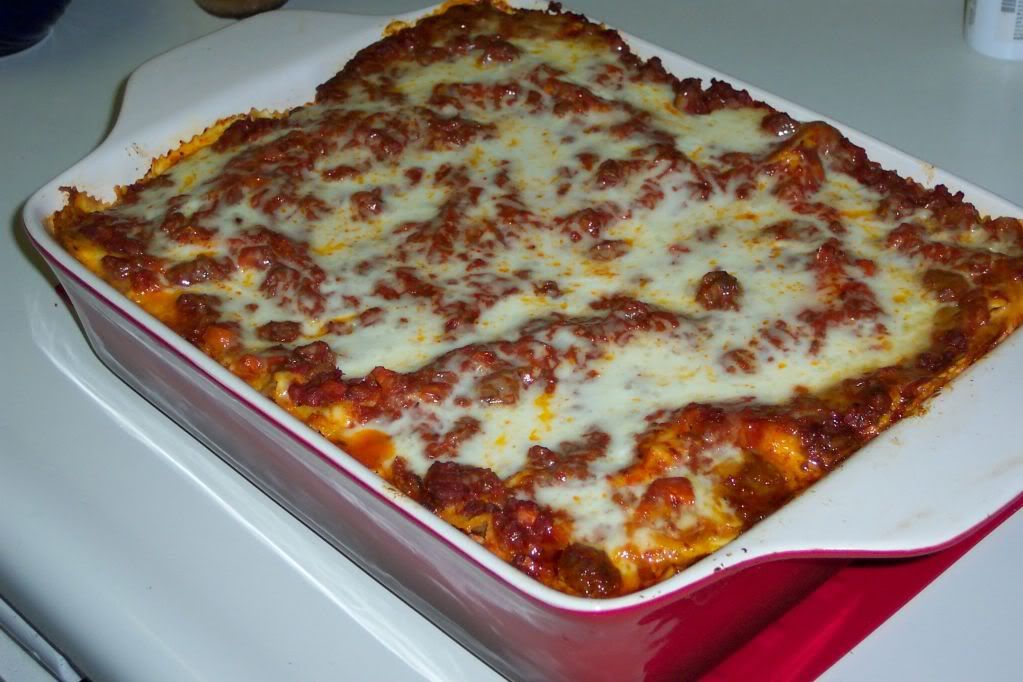 Yes I know, another pasta entry. I promise this will be the last one for a while. I really wanted to try making lasagna with fresh pasta, and it was so worth it. Actually it was not that much work and the more I use my pasta attachments the easier the whole process seems to get. None the less this lasagna is packed full of flavor and will feed us for the next month. After I made this dish I was sad that we had no one to share it with. This is a dish made of love and you can taste it in every bite.
This recipe can be made in stages and prepped in advance. Perfect for entertaining! Enjoy!
Ingredients
2 16 ounce cans tomato sauce
2 6 ounce cans tomato paste
2 small onions, finely chopped
1 carrot, finely chopped
4 cloves of garlic, finely chopped
1 cup water
1 pound sweet Italian sausage, casings removed
1 pound ground beef
1 tsp oregano
1 tsp marjoram
1 tsp basil
1 pound mozzarella cheese, grated
1/2 cup parmigiana cheese, grated
2 ½ cups of ricotta cheese
2 eggs
1 tbsp flat leaf parsley
1-1/4 pound lasagna sheets

kosher salt
freshly grated black pepper
olive oil
large lasagna baking dish 12 by 3 inches

Method:
Heat a large sauce pan over low to medium heat; season beef and sausage with salt and pepper, and slowly cook for about 15-20 minutes. Using a wooden spoon brake up large pieces of beef and sausage while it is cooking. Once the meat is no longer pink remove meat from skillet; drain, and discard all the fat sauce pan. Add one tablespoon of olive oil, onion and carrot to the same sauce pan and saute over low to medium heat till tender. Once tender add the garlic; saute for one minute and then return ground meat to sauce pan.
Mix in both cans of tomato sauce and tomato paste, water, oregano, marjoram, basil and salt and pepper to taste. Bring sauce to a simmer over medium heat; after you reach a nice bubbly simmer turn the heat all the way down and cover sauce. Cook sauce for at least one hour; sauce can be made a day in advanced and in my opinion tastes better when I make it in advance.
In a medium size bowl mix together ¼ cup parmigiana cheese, 2 ½ cups ricotta cheese, 2 eggs, 1 tbsp flat leaf parsley, and salt and pepper to test. Set aside for assembly.

Assembly:
Coat the bottom of your lasagna pan with olive oil; a few tablespoons will do. Bring a large pot of water to boil; salt water and put four lasagna sheets into the boiling water. Boil fresh past sheets for 2 minutes (boil for 5 minutes if you are using dry store purchased sheets); remove sheets, place them in cold water to stop the cooking process. Dry them off and set them in your lasagna dish.
I made my lasagna sheets from scratch and I had to build my lasagna layer at a time. If you are using dried lasagna sheets you can cook them all at once and place them on a cookie sheet, coat each sheet with olive oil to prevent sticking.
After setting up your first set up lasagna sheets, take 1/3 of the ricotta cheese mixture and spreed it evenly over the sheets of lasagna. Take about 2 cups of the meat sauce and spread it evenly over the ricotta mixture. Sprinkle ¼ of the graded mozzarella cheese over the sauce, along with 1 tablespoon parmigiana.
Boil 4 more lasagna sheets for two minutes; remove them from the water, and place them on top to form your next layer.
Build this layer the same as the last, ricotta, sauce, mozzarella. Boil four more lasagna sheets for two minutes and build another layer using the last of the ricotta mixture, sauce and mozzarella. Boil the last 4 lasagna sheets for two minutes and place in your lasagna pan to form the final layer. Distribute the last of the sauce over the top of the lasagna sheets; and sprinkle the rest of the mozzarella cheese and parmigiana.
Cover lasagna with foil and bake for an hour in a 350 degree oven. Let lasagna sit for 15 minutes before slicing. This dish will feed a small army of hobbits, enjoy!
The next is for the brave pasta makers, just kidding its really not that hard. The machine does all the work.
Lasagna Sheets:
Ingredients
4 large eggs
1-2 tbsp water
3 ¼ cups all purpose flour
½ tsp kosher salt
Method:
Mix flour eggs, water, and salt in mixing bowl. Use kitchen aid mixer to need the dough, or do by hand. Make four disks out of dough and wrap them in plastic wrap; refrigerate for 1 hour. Work with one disk at a time. Make sure your lasagna pan is ready along with your sauce and cheese filling. Each disk will make 4 perfect size lasagna sheets; you will have odd and end pieces that I did not use, or even bother to boil.
Take your 4 inch disk and feed it threw the pasta sheet attachment on setting 1; mixer speed 2. Fold dough in half and feed through again, do this three times. Turn attachment to setting #2 and feed sheet threw. Turn attachment to setting # 3 and feed sheet threw. Does this for each setting till you reach setting number 5, I took one of my sheets to setting #6 but it seemed to thin for lasagna.
Take large rectangle and cut into lasagna style sheets. I measured my lasagna dish and figured that the bottom strips would need to be around 10 inches long and the top strips would need to be around 12.
If you are worried make them a little long and re size them after you boil them. My kitchen is very small and as I stated before I worked in very small batches, four sheets at a time. Good luck!