The January 2010 Daring Bakers' challenge was hosted by Lauren of Celiac Teen. Lauren chose Gluten-Free Graham Wafers and Nanaimo Bars as the challenge for the month. The sources she based her recipe on are 101 Cookbooks and www.nanaimo.ca.
This was a very interesting challenge. I had to try a few stores to get the gluten free flours, but it was worth it. In the end I made a beautiful treat that pays tribute to the start of the winter Olympics, Canada, and brings awareness to
Celiac Disease
.
I have never had Nanaimo Bars before. I followed the recipe provided pretty much all the way; however, I did add cherry extract to the top layer of the bar. If you can't find non gluten flour, regular all purpose flour can be used.

Gluten-Free Graham Wafers
Ingredients
1 cup sweet rice flour (also known as glutinous rice flour)
3/4 cup tapioca flour
1/2 cup sorghum flour (also known as brown rice flour)
1 cup dark brown sugar
1 tsp baking soda
3/4 tsp kosher salt
7 Tbsp unsalted butter, cut into 1-inch cubes and frozen
1/3 cup honey, mild-flavored such as clover.
5 Tbsp whole milk
2 Tbsp pure vanilla extract

Method:
Combine flours, brown sugar, baking soda, and salt in food processor; pulse on the till it is mixed up. Add the butter and pulse on low till it is the consistency of coarse meal.
In a medium size bowl whisk together honey, milk, and vanilla; add the flour mixture till the dough starts to come together. Turn the dough out onto a floured surface (use the sweet rice flour). Kneed dough a few times, and then form the dough into a rectangle and cover in plastic wrap. Refrigerate the dough for at-least two hours, over night is preferred.
After you chill the dough; cut the dough in half and return one half to the refrigerator. I have a small kitchen so I cut it into quarters. Work on a floured surface, again using the sweet rice flour. Roll the dough out to about 1/8th of an inch. Cut the dough into squares or use a cutter if you are feeling fancy. Place grams on a lined cookie sheet. Poke holes in each gram with a tooth pick, about 6 wholes per gram. Make sure you do not poke all the way through. Store grams in refrigerator for a half hour before baking.
Preheat oven to 350 degrees, put one rack at the most bottom position in your oven, and the other rack at the most top position. Put one cooking sheet on the top rack and one on the bottom, cook for 8 minutes and then rotate sheets racks from bottom to top, and cook for another 8 minutes (if you are using all purpose flour; please note they will cook faster).
Cool grams on a rack. After they are cooled put enough grams into food processor to make 1 ¼ cup crumbs.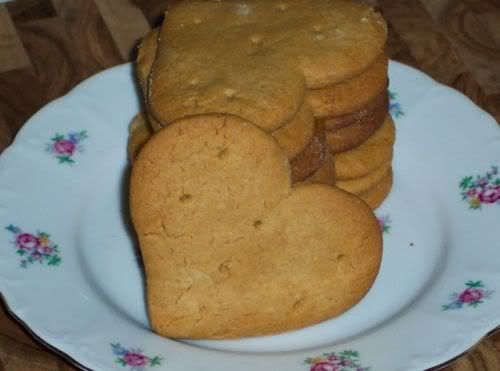 Nanaimo Bars
Ingredients:
Bottom Layer
1/2 cup unsalted butter
1/4 cup granulated sugar
5 Tbsp unsweetened cocoa
1 egg, beaten
1 1/4 cups gluten free graham wafer crumbs
1/2 cup raw almonds, finely chopped
1 cup shredded coconut, sweetened or unsweetened
Middle Layer
1/2 cup unsalted butter, soften
2 Tbsp and 2 tsp Heavy Cream
2 Tbsp vanilla custard powder, instant vanilla pudding can be substituted
2 cups confectioners sugar
Top Layer
4 ounces semi-sweet chocolate
2 Tbsp unsalted butter
1 tsp cherry extract
Method:
Bottom layer:
Heat up double broiler; add butter, sugar, and cocoa powder. Melt mixture, after its melted mix in egg; combine till mixture is smooth. Add gram crumbs, almonds, and coconut; mix well and press mixture into a 6 by 8 inch baking dish.
Middle layer:
Beat together butter, cream, custard powder, and confectioners sugar. Once it is combines make a nice neat layer on top of the gram cracker layer.
Top layer:
Heat double broiler; melt butter with chocolate and cherry extract. Cool chocolate mixture before poring it on top of the custard layer. Chill for a few hours, cut and serve. Enjoy